Elections
---
An election is held in the State of West Virginia each even numbered year. A Presidential Election is held every four years. Polling places open at 6:30 AM and close at 7:30 PM. Voters should report to their assigned precinct to vote. If you are unsure as to where you are supposed to vote, please contact our office or visit The Secretary of States Website.
The County Clerk's Office has many duties and responsibilities when conducting an election including:
Conducting and supervising voter registration
Conduct candidate fillings
Accept candidate financial report filings
Prepare and proof the official ballot
Testing Voting Machines
Training of Pollworkers
Secure polling places
Supervise activities at the Central Counting Center
Assist with the canvass
---
Voter and Candidate Resource Center
Voter Picture ID Law
Beginning January 1, 2018, voters must show a form of identification to vote in person during the Early Voting period or on Election Day in any election. Any ID shown for voting purposes must be valid and not expired.
Acceptable Forms of Non-Photo Identification
Voter Registration Card
Medicare card or Social Security card
Birth certificate
WV hunting or fishing license
WV SNAP ID card
WV TANF program ID card
WV Medicaid ID card
Bank or debit card
Utility bill or bank statement issued within six months of the date of the election
Health insurance card issued to the voter
Acceptable Forms of Photo Identification
WV driver's license or other WV ID card issued by the DMV
Driver's license issued by another state
U.S. passport or passport card
Military ID card issued by the U.S.
U.S. or WV Government employee ID card
Student ID card
A concealed carry (pistol/revolver) permit
Voter Registration Card with Photo (this can be obtained from the Monroe County Clerk's Office)
There are three (3) exceptions to the new Voter ID requirement
Exception 1: Signed, Sworn Statement by an Adult who has Known the Voter for 6 Months or More.
A voter does not have to show an ID to vote if the voter is accompanied by an adult who:
Has known the voter for at least 6 months;
Shows a photo ID with his or her name and address
Signs an affidavit at the polling place confirming the voter's identity.
Exception 2: A Poll Worker Knows the Voter.
A voter does not have to show ID to vote if a poll worker has known the voter for at least 6 months. No additional affidavit or ID is required.

Exception 3: Residents of State Care Facilities
Residents of licensed WV state care facilities do not have to show ID to vote if:
The voter is a resident of the care facility;
The care facility is a polling place; and
The resident's polling place is located at the care facility.
Should you have any questions about this new law, please contact the County Clerk's office at (304)772-3096.
---
Voting System
Monroe County uses the ExpressVote and DS200 Voting Systems. The ExpressVote Universal Voting System utilizes touch-screen technology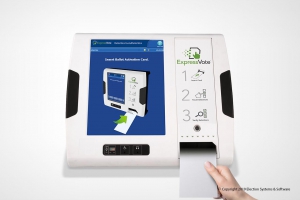 that produces a paper-based record for subsequent tabulation. As a marker, the ExpressVote handles the entire marking process, eliminating marginal
marks and the need for voter mark interpretation. Voters utilize the touch screen to mark their vote selections, receiving a verifiable paper vote record upon completion. The ExpressVote is used during early voting and in precincts on Election Day to serve every eligible voter, including those with special needs.
The DS200 Ballot Scanner system is a portable electronic voting system that uses an optical scanner to read marked paper ballots and tally the results. This system allows for paper ballots to be immediately tabulated at your polling site. The DS200 also notifies you of any voting errors. You will be able to immediately correct these errors to ensure that Your Vote Counts!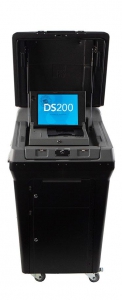 ---
Magisterial Districts
Monroe county is divided into three Magisterial Districts; the Western, Eastern and Central districts. A Couny Commissioner is elected from the district from which he or she resides in on a rotating basis. Magisterial District boundaries are determined by population and are reviewed each year after the United States Census is conducted. Districts are required to be close in population. If after the census is conducted and it is determined that the population in one magisterial district is greater than another district, the County Commission is required to redraw the magisterial district boundary lines to make the population of each district as equal as possible.
---
Voting Precincts
Monroe County presently has eighteen (18) voting precincts. Voters are assigned to a precinct based on where they reside. A map outlining the voting precinct boundary lines is posted in the County Clerk's Office and is available for review. Click here for a list of the voting precincts. The list contains the precinct number, precinct name, and the location of the precinct and which magisterial district the precinct is located in.
---
Early Voting
Early Voting takes place for ten (10) days before an eletion up until three (3) days before the election. Early Voting is conducted at the lower level of the 911 Center directly behind the Courthouse, and at the Peterstown Town Hall during normal business hours of the County Clerk's Office. These hours are 8:30 AM - 4:30 PM, Monday through Friday, excluding legal holidays, and from 9:00 AM - 5:00 PM on Saturdays. See election calender for specific dates (to be posted at a later date).
---
Central Counting Center
Once the polls close and the voting supplies and materials are returned, the results of the election are compiled and released at the Central Counting Center located in the Circuit Courtroom at the Monroe County Courthouse. The public is certainly welcome to attend the activities at the Central Counting Center.
---
Poll Workers
We are always in need of pollworkers. If you are registered voter and are interested in becoming a pollworker then please contact Becky Fox at [email protected]. The pay is $150.00 for the day. Duties include:
Welcoming Voters
Checking and Comparing their names in a poll book
Taking the voters to the iVotronic Machines
Loading the appropriate ballot
Stringing poll slips
Picking up and delivering supplies to the Courthouse
A mandatory 2 hour training is required.
---
Absentee Voting by Mail

To request an Absentee Ballot by mail please see forms below:

Upon completion mail to:

Monroe County Clerk's Office
PO Box 350
Union, West Virginia 24983

Overseas And Military Voting

For information regarding Overseas and Military Voting please see forms below: